Ridding Auckland's inner west of predators and invasive weeds will go a long way towards restoring our native biodiversity, but we also need to plant species which our native fauna rely on. Prioviding habitat, food and shelter for bats, lizards, and insects is great, but you get the biggest impact planting for the birds.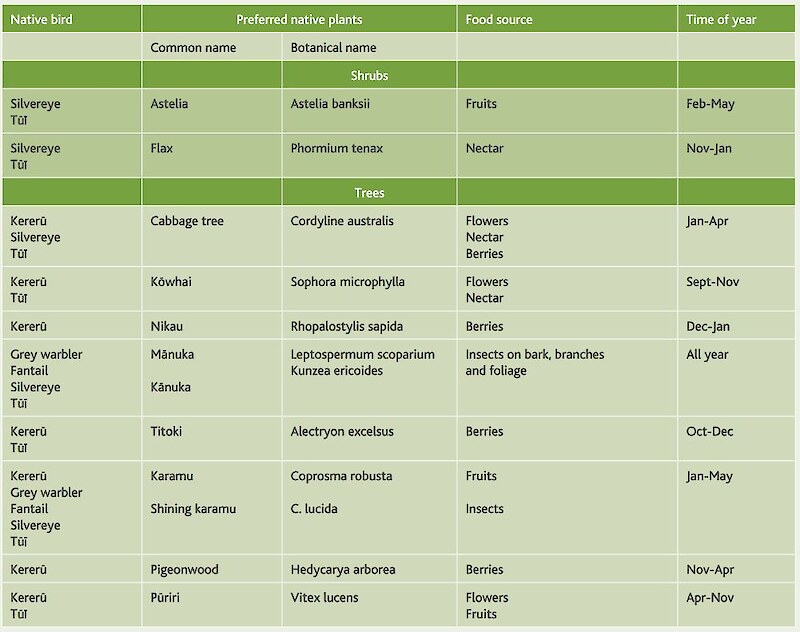 The table is taken from Auckland Council's Wildlife and your backyard leaflet with advice on planting for birds along with lots of ideas for feeding birds.
If you're looking for more guidance on what to plant, check out the following:
Plant Me Instead: Auckland The local edition of Weedbusters' series of downloadable brochures covering the country. It pairs known pest weeds with alternatives which achieve the same purpose in your garden. Most of them are natives, but some are exotic species which (so far) haven't caused a problem. You can order hard copies from Weedbusters.
Attract Birds to Your Garden The Department of Conservation's advice is not regionally specific but is great starting point with planting suggestions tied to bird feeding.
Our Make your garden native-friendly page also has useful suggestions.
Garden centres sell all sorts of cultivars which aren't really appropriate for improving our native biodiversity. Aim to use eco-sourced plants that are typical of the local area. Planting is typically done in winter, and Dylan from Conservation Volunteers NZ will show you how.
Planting groups
The same Urban Ark groups that are heavily involved with weeding are also busy planting natives. Check out the main weeding groups here.