Pollen Island Walk & Beach Cleanup
Saturday 20 March 2021, 10:00am - 2:00pm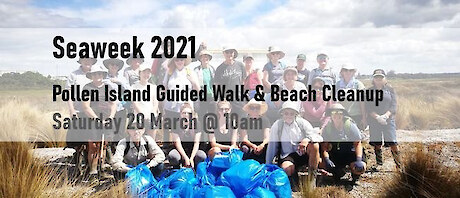 Motu Manawa - Pollen Island Restoration Group are running their annual Pollen Island Walk & Beach Cleanup 20th March, but please bear in mind this will be subject to changes on Covid -19 Alert Levels and usual reservation concerning weather conditions. Fingers crossed!! Details for the event please see here: https://www.seaweek.org.nz/events/pollen-island-guided-walk-and-beach-cleanup
The walk will not go ahead if Covid -19 Alert Level is above 1.
The Photo was taken from last year before the first nationwide Covid-19 lockdown - thanks to our volunteers.
Do RSVP now for your interest so we can keep you posted for updates and confirmation of the meeting place.